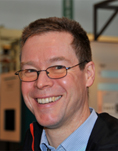 Prof. Dr. rer. nat. Thomas M. Magin
Date of Birth:
23. Sep. 1955
Nationality:
German
Address:
Institute of Biology
Philipp-Rosenthal-Str. 55
04103 Leipzig
Tel:
+49 (0)341-97-39582
Fax:
+49 (0)341-97-39589
Email:
t.magin(at)uni-leipzig.de
Current position
Full professor at Institute of Biology
University of Leipzig (tenure)
Education and academic positions
| | |
| --- | --- |
| 07/1987 | First class PhD degree in Cell Biology (University of Heidelberg) |
| 1983-1987 | PhD thesis work with Prof. Werner W. Franke at the Div. of Cell and Tumour Biology at the German Cancer Research Centre, Heidelberg |
| 1982 | Diploma |
| 1974-1982 | University of Heidelberg, Studies of Biology, Chemistry and Physics with leave of absence for Civil Service at Mannheim City Hospital, Dept. of Medicine (1975-1976) |
Academic positions
2010 - present
Full professor of Cell & Developmental Biology at Institute of Biology, University of Leipzig, Germany
2002-2010
Full professor of Molec. & Cell. Biochemistry, University of Bonn
1998
Habilitation in Molecular Genetics ("Privatdozent"), University of Bonn
Research topic: functional characterization of the keratin cytoskeleton
Since March 1995
Group leader at the Instit. of Genetics, Division of Molecular Genetics, University of Bonn
1993
Recipient of Foreign Research Fellowship of Wellcome Trust in conjunction with a Wellcome Research Grant shared between Dr. D. W. Melton and Dr. T. M. Magin
(Establishing mouse models of human inherited skin disorders by gene targeting)
1991-1993
Recipient of research fellowship from DFG (German Research Association) in the lab of Dr. David W. Melton
1990-1991
Research fellow with Dr. David Melton, Institute of Cell and Molecular Biology, University of Edinburgh (on leave of absence from German Cancer Centre, Heidelberg)
1987-1990
Postdoctoral fellow with Prof. W. W. Franke, Heidelberg
Memberships and professional functions
Editorial board, Mol Biol Cell, advisory board of German Soc. for Cell Biology, Editorial Board Exp. Dermatol., member of scientific advisory board DEBRA UK, member of German and Amer. Soc. for Cell Biology, member of European Soc. for Dermatol. Research, speaker DFG-SPP 1782.
Honors and awards
| | |
| --- | --- |
| 1988 | PhD thesis award of GFM (Society for the Advancement of Molecular Biology) |
| 1991-1993 | Recipient of research fellowship from DFG |
| 1993-1995 | Recipient of Foreign Research Fellowship of Wellcome Trust |
| 1995-2000 | Independent group leader SFB 284 |
| 1998 | Founding member of Bonner Forum Biomedizin |
| 2003-2009 | Member of reviewer panel for the award of Postdoc Fellowships of DAAD |
| 2008 | Member of scientific advisory board DEBRA UK |
| 2014 | Helen C. Levitt Endowed Visiting Professor at Carver college of Medicine, University of Iowa |
| 2015 | Coordinator DFG Schwerpunkt 1782 "Epithelial intercellular junctions as dynamic hubs" |
Research profile
My major interest is to understand molecular mechanisms governing epithelial differentiation, regeneration and pathogenesis, using the function of the epithelial keratin cytoskeleton as a model system. This topic captured my interest during my PhD thesis work with Werner W. Franke at the German Cancer Research Center in the 1980ies. My lab follows the hypothesis that members of the keratin multigene family play a major role in the spatiotemporal regulation of the above epithelial functions, by acting as cell type-specific architectural and regulatory proteins. Through these functions keratins affect tissue regeneration, carcinogenesis and metastasis by regulating cell/tissue stiffness, cohesion, migration and invasion.
My postdoctoral education with David Melton at the ICMB, University of Edinburgh familiarized me with gene targeting and embryonic stem cell methodologies and enabled to me develop some of early keratin knockout mice. I returned to Germany in 1995, to take up a position as group leader at the Department of Genetics, University of Bonn. In 2001, I became full professor of Cell Biochemistry at the Institute of Biochemistry and Molecular Biology, University of Bonn. In 2010, I moved to the University of Leipzig (Translational Center of Reg. Med and Institute of Biology) to become full professor of Cell & Dev. Biology. Today, it is apparent that keratin dysfunction causes blistering, barrier and chronic inflammatory disorders, cell adhesion defects and impacts cell metabolism. In fact, mutations in 20 of the 54 keratin genes cause cell-specific epithelial disorders affecting predominantly the skin (e. g. Epidermolysis bullosa simplex).
The aim of our research is to elucidate molecular mechanisms by which keratin isotypes contribute to epidermal differentiation, cell adhesion, barrier function, metabolism, regeneration and disease. Understanding these mechanisms is necessary to resolve pathomechanisms underlying keratin-associated disorders as a major prerequisite for the development of molecular therapies, an aspect which we address in several projects.
To achieve our aims, we work with 3 model systems, namely genetically altered mice, Drosophila and cultured keratinocytes, in combination with a wide range of cell biological, biochemical and molecular genetics approaches. In addition to mice carrying deletion of individual keratin genes, we have established mice in which all 28 type I and 26 type II keratin genes are deleted conditionally, using cre-lox mediated genome engineering. Keratinocyte cell lines isolated from these mice form the basis for a strategy we called "delete and replace" to elucidate keratin function. Using these mice and keratinocytes derived therefrom, we have identified previously unknown roles of keratins in desmosome-based adhesion and in the control of keratinocyte-based inflammatory skin disorders. These discoveries were featured in special commentaries in the Journal of Cell Biology (2013) and the Journal of Cell Science (2012). Moreover, in collaboration with biophysicists, we showed that keratins are major determinants of cell stiffness and invasiveness (PNAS 2013). This finding has great relevance for tumor biology and tissue engineering