M. Hatzfeld: Characterization of plakophilins as desmosomal signalling hubs controlling intercellular adhesion and proliferation in the epidermis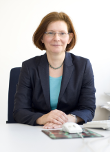 Principal investigator
Prof. Dr. Mechthild Hatzfeld
Martin-Luther-University, Halle
Institute of Molecular Medicine
Division of Pathobiochemistry
Tel: +49 (0)345-5574422 (office)
mechthild.hatzfeld(at)medizin.uni-halle.de

SPP Associated collaborator
Dr. Rene Keil
Martin-Luther-University, Halle
Institute of Molecular Medicine
Division of Pathobiochemistry
Tel: +49 (0)345-5573836 (office)
rene.keil(at)medizin.uni-halle.de
SPP funded collaborator
Lisa Müller
Martin-Luther-University, Halle
Institute of Molecular Medicine
Division of Pathobiochemistry
Tel: +49 (0)345-557-3837 (office)
lisa.mueller(at)uk-halle.de
Summary
The epidermis is a multi-layered self-renewing tissue. Proliferating cells in the basal layer continuously move up into the suprabasal layers and differentiate. This process of regeneration is regulated by various kinds of growth factors many of which are produced by keratinocytes. Members of the epidermal growth factor (EGF) and insulin-like growth factor (IGF) families play a central role in regulating proliferation versus differentiation. Cohesion in the epidermis is primarily mediated by desmosomes which must be tightly regulated to allow for plasticity on the one hand without compromising tissue cohesion and barrier function on the other hand. Plakophilins (PKPs) 1-3 are components of the desmosomal plaque that links keratin filaments to the desmosomal cadherins. Although it is known that at least one PKP is necessary to build a desmosome, the differential contribution of PKPs to desmosome formation, size and stability as well as to extra-desmosomal functions is still an open question.
In our previous work, we have shown that PKPs 1 and 3 act as switches between desmosomal adhesion, cell proliferation, cell migration and anchorage independent growth. We find that in vitro, PKP1 strengthens intercellular adhesion and increases desmosome size. However, PKP1 can also stimulate cell proliferation by associating with the translation initiation complex to increase protein biosynthesis. This correlates with decreased intercellular cohesion. Activation of these non-desmosomal functions of PKP1 depends on its phosphorylation by the Akt2 kinase downstream of IGF1/insulin signaling. In this setting, PKP1 is translocated from desmosomes into the cytoplasm. The loss of PKP1-desmosome association correlates with a loss of intercellular cohesion, increased proliferation and anchorage independent growth.
The aim of the current project is to characterize the differential roles of PKPs 1 and 3 in growth factor signaling in detail and determine their role in epidermal homeostasis.
Expertise
Cell biology of desmosomes, signaling via adhesion molecules, keratinocyte culture, microscopy (live cell imaging, FRET, FRAP, immunofluorescence)